"Orygen is an amazing place and I honestly owe them my life… places like this truly saves young lives." – Anonymous
Orygen and OYH new facility in Parkville opened  last week to a spectacular response after recently winning The European Healthcare Design Award for Best Mental Health Facility.
For those aware of Orygen's ground-breaking work, it won't surprise that the organisation sought to push the boundaries of what a youth mental health facility should look and feel like during the planning of the purpose-built environment.
The new facility houses clinical, research, policy, education and training services all focused on improving mental health outcomes for up to 5,000 young Victorians per year. Alongside clinical services, Orygen is a centre of excellence with a strong research component for health professionals to pursue better treatment options for young people living with mental illness, and a training and education hub for workers in the mental health sector.
"We're a world-renowned, internationally recognised organisation, and a leader in youth mental health. We needed a home that would reflect that. And we wanted everyone who came to us to feel included, respected and safe. After all, we are in a sense welcoming people into our home" – Kerryn Pennell, Orygen's Director of Strategy and Development
The building design reflects the surrounding landscape, with natural laminated timbers throughout. Organically-shaped and curved wooden beams create a sheltered and gentle interior evocative of an arbour, inspiring reflection or conversation.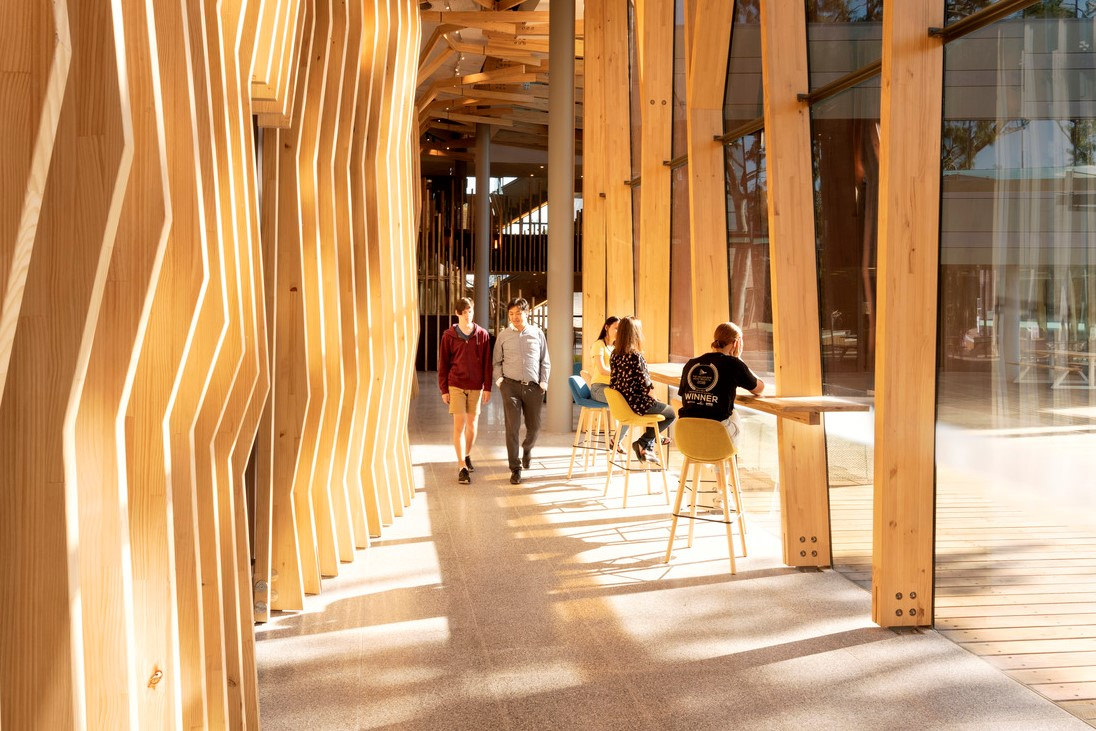 "The building was designed as intertwining spaces, with the lower ground and ground levels created as open, public areas. There was a conscious effort to bring the natural beauty of the surrounds into the structure. We wanted to avoid the 'inside versus outside' scenario and create lots of open spaces for walking and talking. The stairways are wide enough for two people to comfortably walk together on them. Even the consulting rooms have outside decks so people have the ability to find space to debrief, settle or reflect on what's been happening." – Tonya Hinde, BLP Associate Director and Interior Design Lead.
Another critical decision taken from day one was to ensure young people were active contributors throughout the planning process. Kerryn Pennell says that the 140 current and former patients and young people from the wider community who were involved were discerning and rigorous in their approach:
"They weighed in on what furniture and furnishings we should have, the design of consulting rooms – everything! And they certainly defied some stereotypes along the way. They were ruthless in their opinions!"
Ongoing work at Orygen and OYH Parkville includes the installation of walking paths and quiet, leafy retreat areas for outside consultations. Volleyball, half-court basketball and skate ramps are also planned. The drive towards new and better models of mental health care is ever continuing for one of the world's most progressive health organisations:
"We never settle, we're always pushing the envelope", says Kerryn Pennell. "Orygen is about change, renewal and opportunity. This building represents true passion. It lets people see who we are – that we are what it says on the tin."
Read more about Orygen and OYH.